Spraymaster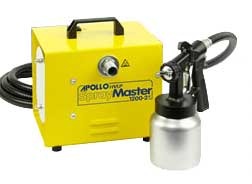 Lightweight, compact and portable, this system utilises a high efficiency turbine requiring no compressor and is capable of spraying most types of coating cleanly, easily and without wastage.
Complete with the all new and improved 'Hobby Plus' spraygun featuring smooth trigger action and precision machined metal air cap, the SprayMaster is equally capable in the garage, the workshop or in the home.
Designed for the semi professional, the extra power of the turbine gives an enhanced finish, faster application and the tough all steel powder coated turbine power unit will handle everyday knocks.
System Features:
Ease of use
Reduced overspray
High efficiency turbines
Easy cleaning
Constantly rated – will spray all day without waiting for air pressure to build up
Spraygun features:
Smooth trigger action for ease of use
Precision machined metal aircap for fine control and high quality finish
3 position aircap adjusts for vertical, horizontal or dot spray pattern – making painting awkward objects easy
1 litre capacity, high quality aluminium paint cup
Viscosity cup to enable paint to be mixed to the correct viscosity for spraying. Reduces the risk of 'runs' or 'orange peel'
Specifications:
Efficient and powerful 1200 watt two stage turbine
5 metre industrial air hose with aluminium gun hose connector & screw on turbine connector
Integral air filter for super smooth, dust free finish
2 metre power lead with plug
12 month warranty
For more information or to speak with a member of our sales or technical team, please don't hesitate to contact us on +44 (0)121 322 2299.