Spraymate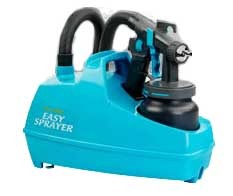 Ideal for workshop, garage or home use and suitable for spraying a variety of finishes such as cellulose, emulsion, gloss, enamel, lacquers, fence preservative, insecticides, varnishes and so on. It is a complete plug and play system which is easy to use, clean in operation and easy to clean once the job is finished.
System Features:
Ease of use
Reduced overspray
High efficiency turbine
Easy cleaning
Constantly rated – will spray all day without waiting for air pressure to build up.
Specifications:
1100 watt two stage turbine
3 metres flexible hose
Spraygun fitted with 1.8mm needle and jet set up
Complete with instructions for easy use
Voted 'BEST BUY' in Practical Classics Magazine.
For more information or to speak with a member of our sales or technical team, please don't hesitate to contact us on +44 (0)121 322 2299