Professional System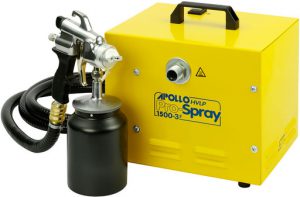 Apollo: Your Start to a Perfect Finish.
High Volume Low Pressure – the very clever way to spray!
At the heart of every Apollo HVLP system is a powerful and efficient turbine delivering High Volume air at Low Pressure. It's this massive air volume that atomises the paint not the pressure, so the paint stays on the surface and does not bounce back onto surrounding areas nor into the atmosphere. Easy to spray cleanly, efficiently and achieve a fantastic finish with minimal masking off. And because bounce back is reduced you will save paint and help protect the environment too.
Apollo is perfect where space is limited and for on-site spraying, classic cars, shop fitting, decorating, custom kitchen fitters and bath re-enamellers – anywhere needing clean, hassle free spray with a great finish.
Pro-spray™ 1500³
Designed for the serious sprayer, this model has a powerful 1500 watt 3 stage turbine and the ability to handle all types of coatings. The all new ANB300 Proline™ aluminium gun is the ultimate in feel and performance and comes as standard with this model.

Pro-spray™ 1500³ optional Speed controller version(pictured ABOVE).
As Per the Pro-spray™ 1500³. included is the all new ANB300 Proline™  gun, in addition this model is a variable 3 speed controller, allowing air pressure to be turned down for  fine detail work such as self-tanning and wood staining.
Key ANB300 features:
"Non Bleed Gun" means air shuts off when the trigger is released – reduces dust lift
Stainless Steel Needle & Jet Assembly – essential with water borne coatings.
Smooth, controllable trigger action
Ergonomic, stay cool handle
Adjustable fan pattern from horizontal to vertical & additional spot controller for super fine detail work
Optional Extras
A useful range of optional extras is available to help you get the best from your ANB300 Spray Gun.
| | |
| --- | --- |
| | Spray Set Up sizes 0.8mm, 1.0mm, 2.0mm, 2.8mm |
| | 250ml paint cup for small quantities, frequent colour changes or use in confined spaces |
| | The ultimate spraygun for bath refinishing, furniture spraying or even spray tanning! |
Downloads